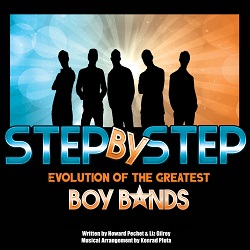 STEP BY STEP
When
Runs from Friday November 17 2023 to Sunday February 4 2024
Approximate running time: 2 hours
Venue
Event Notes
×
STEP by STEP Evolution of The Greatest Boy Bands
In 1960, the Beatles burst onto the scene. They left women screaming and music executives with dollar signs in their eyes. The birth of the boy bands was here and there was no turning back. The creation of a Boy band is pretty easy. You take a heartthrob, a cutie, a bad boy, and a guy that may be a little too old to be in a boy band and throw them into some matching outfits, and synchronized dance moves and all of a sudden, you'll make the music world swoon.
Please join us as we recreate music history from the Beatles to The Bee Gees to the New Kids on the Block and finally on to *NSYNC and the Backstreet Boys. Boy bands have all the perfect melodies; upbeat, slow, pop, hip hop and then there is that 'ultimate jam' that everybody knows.
While we bring you all the frenzied hits such as "Hard Day's Night", "Daydream Believer", "nIight Fever", "Step by Step", "Bye, Bye, Bye", and "I Want It That Way". We hope to have you screaming and chair dancing to all the hits from the most talented boy bands in music history.