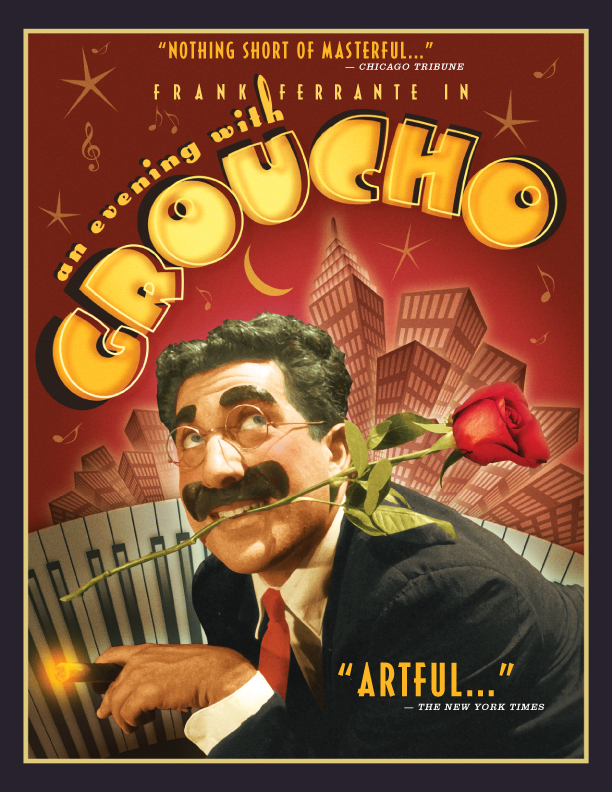 An Evening with Groucho
When
Runs from Friday September 8 2023 to Sunday November 12 2023
Approximate running time: 1 hour and 30 minutes
Venue
Event Notes
×
Nothing short of masterful" ~The Chicago Tribune
"An affectionate, funny and unsentimental portrait...a truly delightful show" ~Hollywood Reporter See this man. He is a comic genius." ~ The Seattle Weekly
Award-winning actor and director Frank Ferrante ignites his PBS, New York and London acclaimed portrayal of legendary comedian Groucho Marx in this fast paced 90 minutes of hilarity. The two-act comedy consists of the funniest Groucho one-liners, anecdotes and songs including "Hooray for Captain Spalding," and "Lydia, the Tattooed Lady."
The audience literally becomes part of the show as Ferrante ad-libs his way throughout the performance in grand Groucho style. Accompanied by his onstage pianist, Ferrante portrays the young Groucho of stage and film and reacquaints us with the likes of brothers Harpo, Chico, Zeppo and Gummo, Charlie Chaplin, W.C. Fields and Marx foil Margaret Dumont.
A show perfect for comedy fans of all ages!